It is common for laboratories to have the challenge of fitting many working areas into a limited amount of space. Today, products exist to take advantage of unused space to open these often crowded areas. Here we will go through some suggestions to create a more effective lab layout to make proper use of your available space.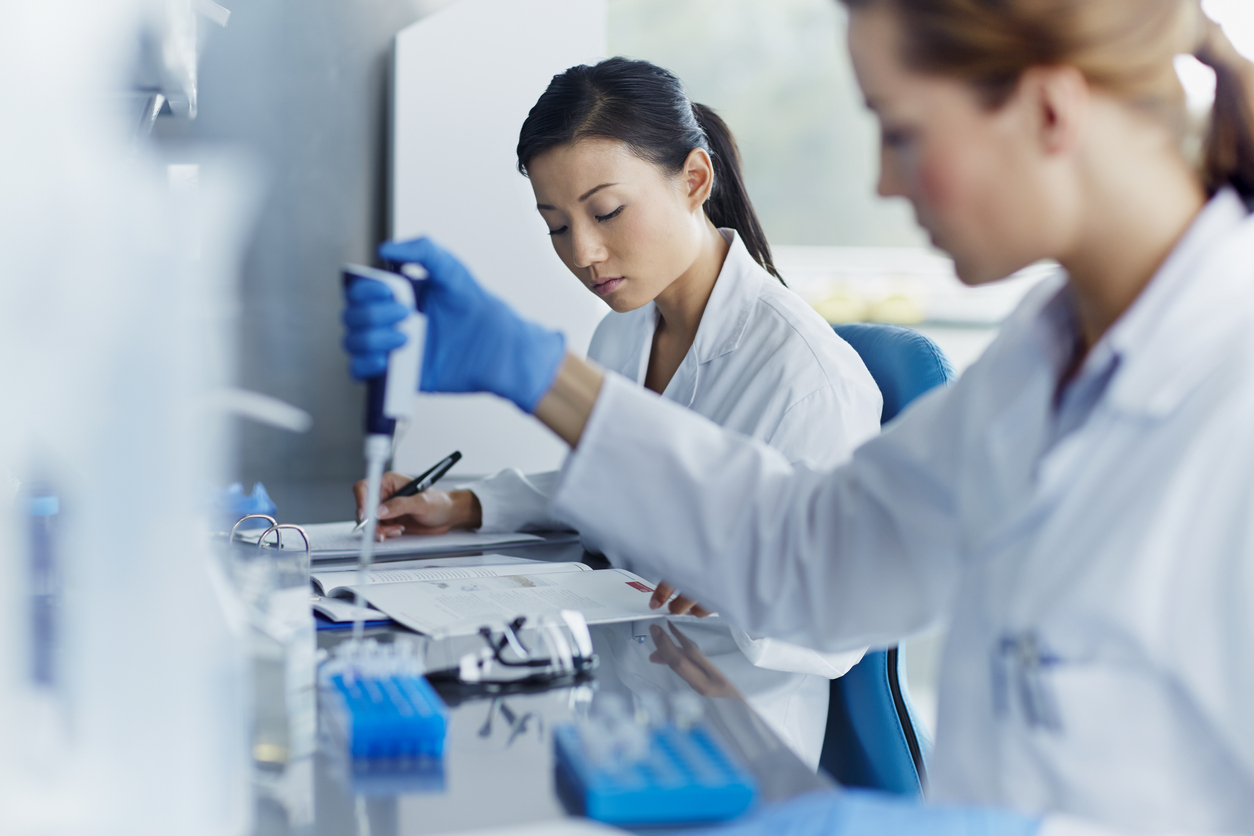 High-Density Storage
When it comes to bulk storage, a high-density solution is a great way to fit as many supply items as possible within a confined space. High-density shelving comes in a variety of options to fit the exact needs of your facility.
High-density polymer shelving offers a corrosion-proof solution in facilities that require large amounts of storage in wet or cold environments. Metro polymer also includes Microban antimicrobials built into the shelves. The antimicrobial additive helps to inhibit the growth of microorganisms such as bacteria, mold, and mildew. This material helps to keep the shelves cleaner, longer. Polymer is also resistant to chemical spills and regular cleaning.
High-density design provides up to 50% more storage space in storage areas freeing other areas of the lab or providing the option of storing additional supplies. High-density shelving is also available in lab-grade stainless steel.
Build a High-Density Unit in our 3D shelf builder.
Under Counter Storage
One area of space that is often ignored is the area under counters or worktables. Instead of bulky storage cabinets, consider using short modular storage solutions. Undercounter storage solutions open up floor space in labs. Opening up that space for movement can help improve processes by creating pathways for staff to use as they go about their day.
Undercounter storage also offers easier access to materials than housing supplies in stationary cabinets. Every material staff members utilize can be stored within an arm's reach by relocating supplies directly under the team's workstations.
This small change can improve efficiency and limit the amount of floor space used in material storage.
View our picks for under counter lab storage.
Wall Shelving
One of the best ways to optimize your processes is by eliminate storage solutions that take up space on the floor. Wall shelving does just that by keeping the floor clear and creating a storage area on the wall. This solution has many benefits, including making materials more accessible by placing them within an arm's reach. The convenient design places tools directly above workstations and allows access to materials without moving through the lab. The open design makes inventory and finding materials easy. When you rent or buy lab space, you own that wall and airspace. Put it to good use!
Build your ideal wall shelving solution.
Space-Saving Benches
Some products you need in a lab area may be taking up an unnecessary amount of space. Cleanroom benches and garment racks often take up a considerable amount of space. To combat this, you need to evaluate the area properly. Metro reps are specifically trained to build a proper workflow and find ways to save space. From this experience, the team has been able to create solutions specifically designed to optimize your entire lab space, including cleanrooms.
One NEW solution specifically designed to save space in the cleanroom is our specially- sized cleanroom benches. The new variety of bench sizes take up less space in the cleanroom, providing what your staff needs without causing unnecessary clutter. Attachments can also be added to benches to improve efficiency and storage in the cleanroom area.
Secure Storage
Items that require secure storage often fall short in the realm of organization. This is because most solutions prioritize the security element without taking into account inventory management. Metro security cages are different. Metro security cages are designed to keep the contents safe while also organizing materials. Unlike other security cage options, Metro cages can be matched with Super Erecta accessories, including dividers, bins, and labels to help make inventory management a bit easier.
Metro cages also offer a more efficient electronic pin locking option. This makes granting access to multiple team members easier. Instead of copying keys, your facility has the ability to set a lock code.
View Metro security cages for your facility.
Make the most of your space with the help of space-saving solutions from Metro. Building your area to allow for more comfortable movement and easier access to stored items is a great way to enhance productivity and make a more comfortable working environment for the staff in the lab.