Polymers used in plastics have come a long way. The advanced polymers used in MetroMax shelving has become a favorite in sterile processing departments across the country. Here we will look at a specific instance where MetroMax shelving proved to be the best solution and improved a facility's storage capacity and processes.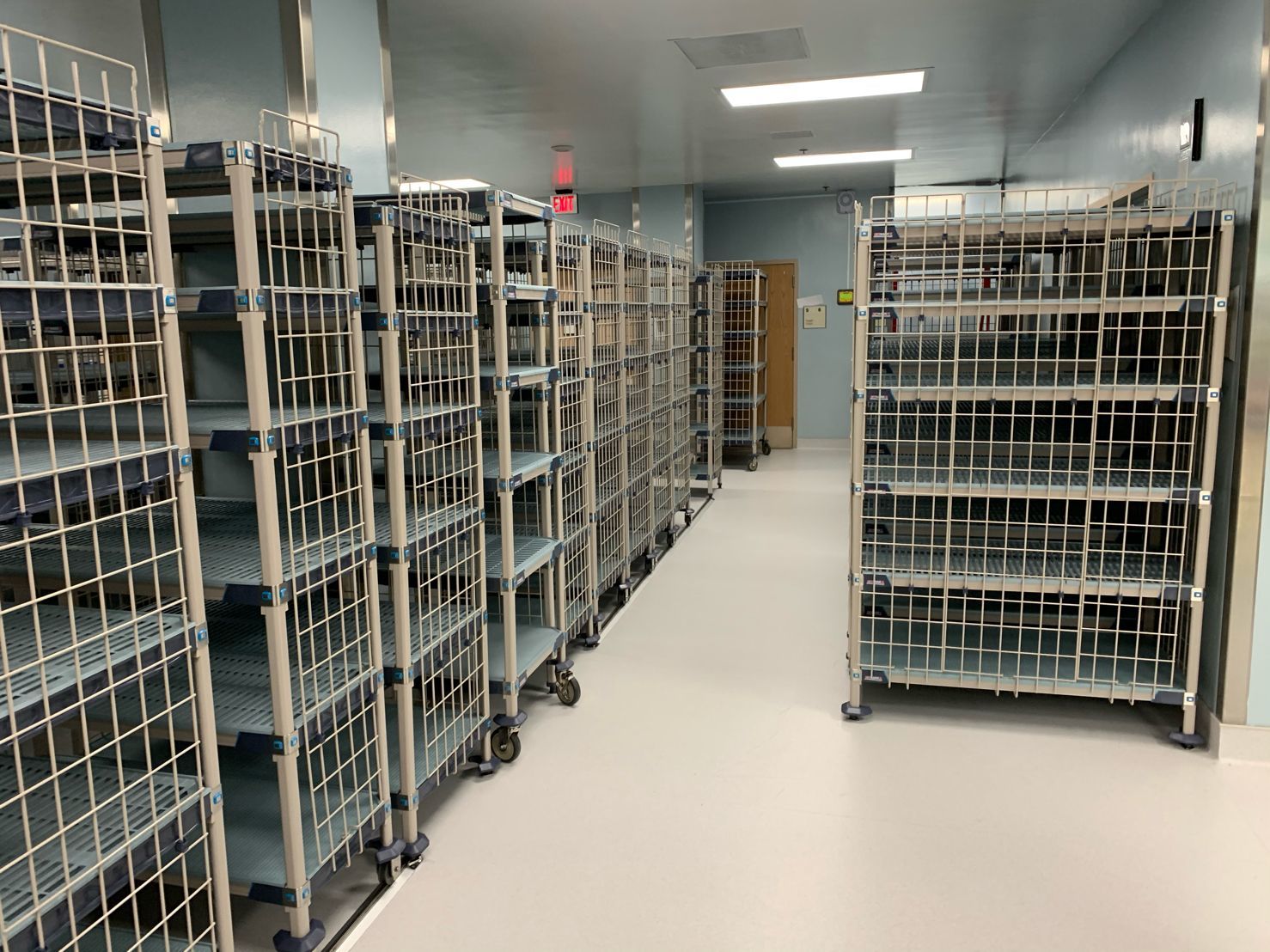 Why Heavy-Duty Polymer Shelving in Sterile Storage?
We turned to Jayme Artisensi, Metro storage consultant, to discuss why this solution is preferred and his creative take on his most recent sterile storage project.
"People tend to gravitate towards plastic shelving because it can help SPD departments maintain a cleaner and safer environment, Artisensi stated.
Polymer shelving provides a solution that is easier to clean and includes a safer design for the storage of packs."
MetroMax® polymer shelving has a smooth front instead of the usual lipped front found on wire shelving units. So, MetroMax i shelving offerd better protection for sterile packs and wrapped trays.
In general, polymer shelving is also cleaner. MetroMax offers a removable shelf mat for cleaning, making maintenance easier on staff and taking time out of the cleaning process. MetroMax also includes built-in Microban® antimicrobial protection, which inhibits the growth of bacteria, mold, and mildew, for the life of the product.
The Challenge
When Jayme was called to a surgery center in Minnesota, he encountered common concerns. The storage area was crowded, the staff had trouble navigating the area, and their storage solutions did not provide the space they needed to keep packs organized and easy to access.
Staff also struggled with having to regularly re-sterilize packs due to thewire storage systems tearing them. Reprocessing packs consumes supplies, takes extra time away from the staff, and, if repeated, can become an expensive issue for the department. It can also impact other departments, especially if it leads to delays in the O.R. In this situation, the team was eager to find a solution that relieved them from the costly burden of repocessing torn packs.
After the team's concerns were brought into the project, polymer shelving was chosen as the best solution to eliminate the staff's current issues.
Solution
Jayme relied on his vast experience in this space to get creative with a storage solution that would provide the largest amount of space possible for the team to work, without compromising the storage needs. To provide the maximum storage space without limiting the ability of the team to move around, Jayme opted for a high-density track solution. At the end of the project the team had gained about 18-20% more storage space with better workflows to increase productivity.
The high-density moveable aisle design allowed the team to store the sterile packs and create an organized area for carts and other equipment that would have been impossible to include otherwise.
"We added Double Deep qwikTRAK® to make the best use of the space and free up space for other equipment and carts. The QwikTrack freed up enough space that we were able to give them areas to move through the area without any tight corners or difficulty."
To limit reprocessing and make cleaning and maintenance easier, Jayme opted for Metro's polymer shelves for every unit used in this project.
MetroMax plastic shelving is entirely customizable, making the design options vast and leaving much room for creativity.
When reviewing the area, Jayme realized that there were still additional areas that weren't utilized. Thankfully, the innumerable options offered by MetroMax allowed Jayme to create a unique custom solution to give the team as much space as possible.
"The customer and I just chatted about what was more important and wasting space was not helping the customers in any way. At the time the team had 20 18" deep units where they were able to easily fit 24" of depth added together that was a lot of space lost. It would have otherwise created a narrower aisle for another storage area."
Jayme's realization made it possible for two full shelving units to be added to the project. The additional storage space provided the team at the center with more room to hold packs without jeopardizing the areas they opened for cart and equipment storage.
Conclusion
The final product left the customer delighted with their entirely new storage space.
Here is what the Supply Manager had to say about their Metro storage solutions,
" I love my new department and feel like I have increased my space by at least 3 full carts. I have no complaint."
Staff was ecstatic to finally have a space capable of storing their sterile packs, without damaging them, and having enough space to do their job, comfortably..
Key Improvements:
1.Increased storage (18-20%)
2.Increased space for equipment
3.Improved workflow for staff
4.Increased staff satisfaction
5.Reduction in non-value-added work (Waste)
Are you looking to build your next sterile storage space? Visit https://metro.com/healthcare/sterile-processing/ and then find the Metro storage expert to help you through the process.