At Metro, our mission is to make the world more organized and efficient. To achieve that, we teamed up with FES Magazine to give one winner the chance to improve the workflow and efficiency of their kitchen. What better way to make it happen than a contest that offers one operation over $50,000 of Metro storage and productivity solutions to create their dream kitchen?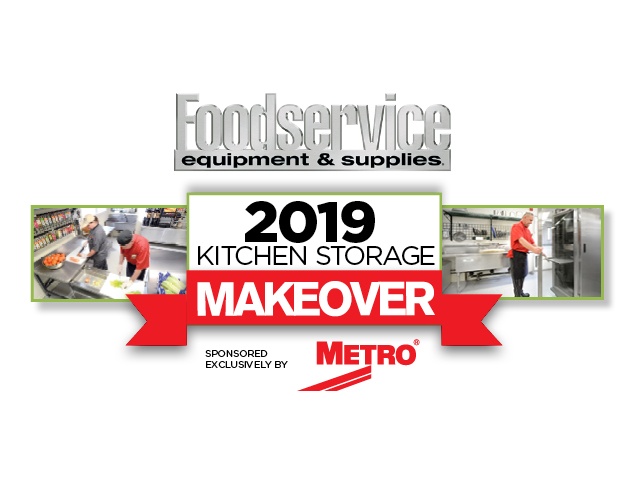 "The objective of the kitchen storage makeover is to improve the way people work through space and workflow optimization," stated Metro CEO, John G. Nackley. "The results would be greater productivity, happier people, and a better work environment."
After months of submissions, three foodservice professionals from the Chicago area selected The Greater Columbus JCC as this year's winner.
Meet the Winners:
The JCC has served the Jewish community of Columbus since 1913. Initially, the JCC served as a help center to assist immigrants coming from Eastern Europe, Russia and Lithuania, as a central location for activities. Over the years, the center continued to grow within the community, and it currently houses a pre-school, senior lunch and various recreational activities. Now, approximately 500 children ages six weeks to 5 years attend Early Childhood Programs at the JCC's three sites, where they begin to form their Jewish identity. This, along with senior lunches and kosher catering, put a lot of strain on the JCC's kosher kitchen.
Matan Gutwaks, Catering & Rentals Manager for the Greater Columbus JCC, helped put the overall kitchen use into perspective.
"We do a whole myriad of types of events and foods in our kosher kitchen. We take care of a preschool where we serve five hundred students daily a snack lunch and an afternoon snack. We take care of our senior lunch, which serves 80 seniors daily. We also do through J catering a whole different slew of events from small packaged meals to large catering banquets."
To help them better serve their community, Metro created a plan to help improve their efficiency and organization. The Kosher kitchen presents added challenges, but our team was ready to take on the task.
How did our winners react to the News?
The JCC's CEO Mike Klapper, was very appreciative of the makeover, highlighting how it would give the organization the ability to help their community better.
"This kitchen is used so many times a day, so many times a week it needed something so that we can continue doing the good stuff that we do every single day."
The Kitchen staff was equally excited with executive chef Tony Robertson showing major disbelief stating:
I couldn't believe it I had to pinch myself three or four times say wow it's this really gonna happen," Robertson said in an interview.
Manager Matan Gutwaks seemed equally as shocked stating that he never expected to win a competition like this.
"Honestly I never expected to win I never win anything I enter competitions as more of a joke and every so often you know oh yeah somebody else won my cousin actually wins everything."
Sorry to your cousin, but with the great work the JCC does for the community it was the perfect canvas for Metro vision to improve the way their staff works by streamlining their workflow and space optimization.
What is Kosher?
"Kosher is a special dietary requirement that is based off of the Jewish religion, and it's broken down into a couple of different categories. The separation of poultry and meat and the dairy products the easiest way to think about it, if you're doing a dairy event, it's basically for a vegetarian meal or a pescatarian because it could include fish. If you're doing a meat event, think lactose free so kosher meats that just can't have any of those different additional dairy products."
According to Matan, this also means that the materials to preps meat and dairy must be separate, this is an added challenge to the staff who need two of every product to work and must take special precautions to ensure that they don't touch.
Assessment Phase:
Phase 1 - Planning
To begin the transformation process, our team spent a day assessing the JCC's process and workflow; to map out unique storage and functional needs. A plan was developed utilizing Metro's Enhanced Space Productivity (ESP Pro) steps:
Interviewing
Photo documentation
Identifying Red Flags (Hazards, employee flow obstruction, challenging to reach supplies, etc.)
Providing a Solution
Testing and Validating
Why ESP Pro?
At Metro, we pride ourselves on our attention to detail. The ESP Pro process has been shown to double productivity and increase storage accessibility by 40%, better utilizing available space, and improving operational costs.
Leaving no stone unturned the specialists at Metro created a plan of attack to increase productivity, increase storage capacities, improve processes and workflow, and maximize profitability within the kitchen.
The team had the added challenge of doing all this, while also, ensuring that the kitchen remained kosher.
The Metro Effect.
The team spent hours measuring and planning possible solutions to efficiency issues in the kitchen. The Metro experts took time to focus on making sure the staff can easily access things they use every day. By limiting the work areas, Metro was able to condense needed materials into more productive groups.
After carefully interviewing workers, the team created a master plan making sure to watch the staff at the busiest times of the day to look for possible hold-ups in the process.
Watch EPISODE 2:
Installation Phase:
Install & Optimization – a 3 day process.
Metro's team tackled a 3-day re-organization and personally installed the JCC's new kosher kitchen solutions.To enhance the storage space of the kitchen, the team built the units, placed them where they were needed and reorganized the kitchen's supplies into Metro's specially designed efficiency- boosting solutions hand-picked for the lucky winners.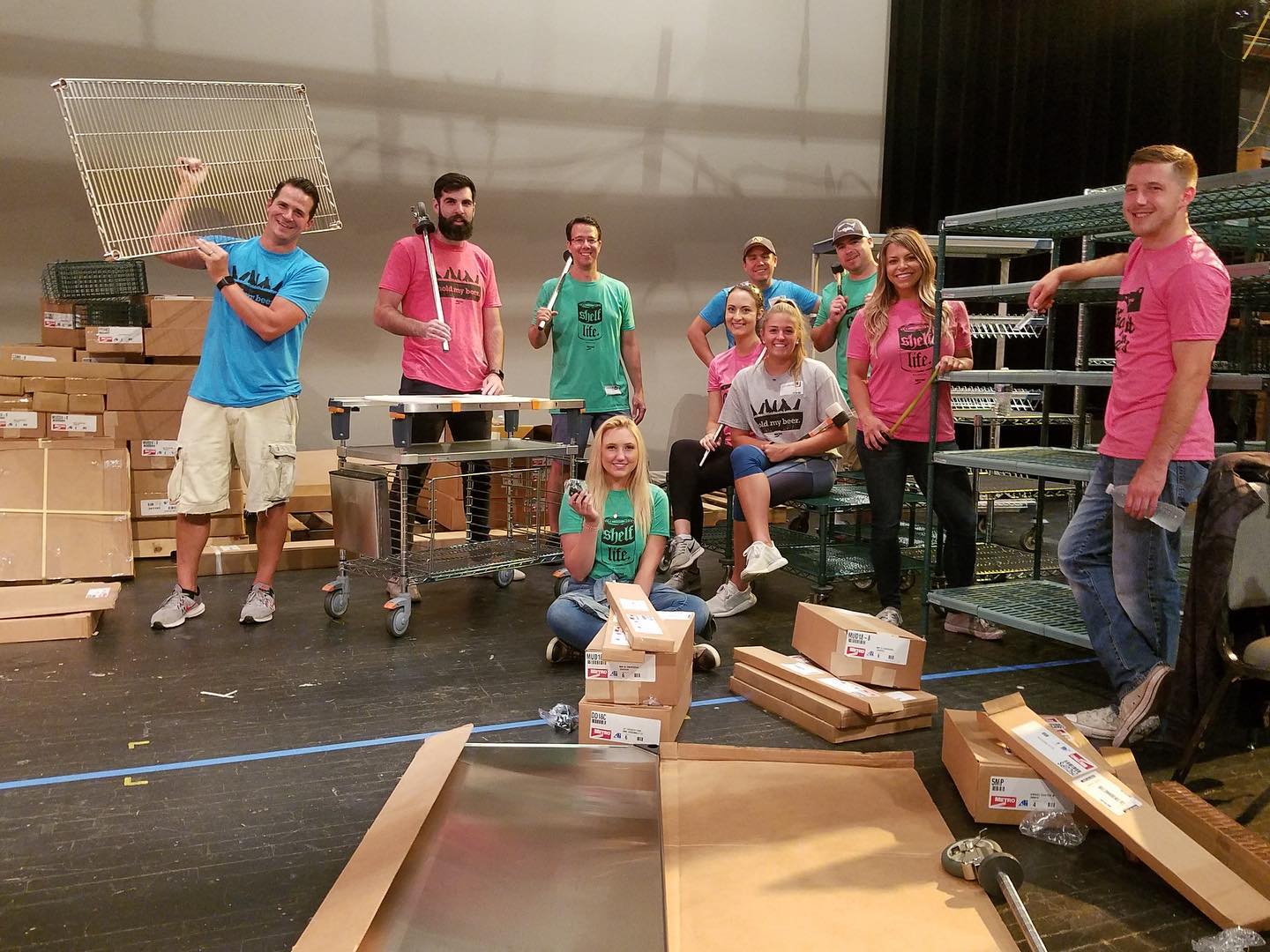 What Solutions did the JCC receive ?
Metro SmartLever Cantilevered Shelving
Super Erecta Shelving (Various sizes & finishes)
PrepMate Multifunctional Prep Stations
Metro Heavy-Duty Stainless Worktables
Super Erecta Under Counter Mobile Units
SmartWall Productivity Wall Shelving with Accessory Grids
Metro C5 3-Series Heated Cabinets
and so much more.....
Organization to the Max!
To increase visibility the Metro team put up Smart Wall units, these units provide great visibility and easy access to tools the staff use regularly. The team also took on the challenge of reorganizing dried goods storage which became known as the " triangle room."
Lauren Noreika, the amazing Metro space guru in charge of the makeover described the room's challenges:
"This room is also very uniquely shaped so a lot of times products would fall behind the shelves and they can't access them so spoiled inventory would happen. A very simple and inexpensive solutions is our rods and tap. We simply added them to the end of the shell so the product wouldn't drop behind. "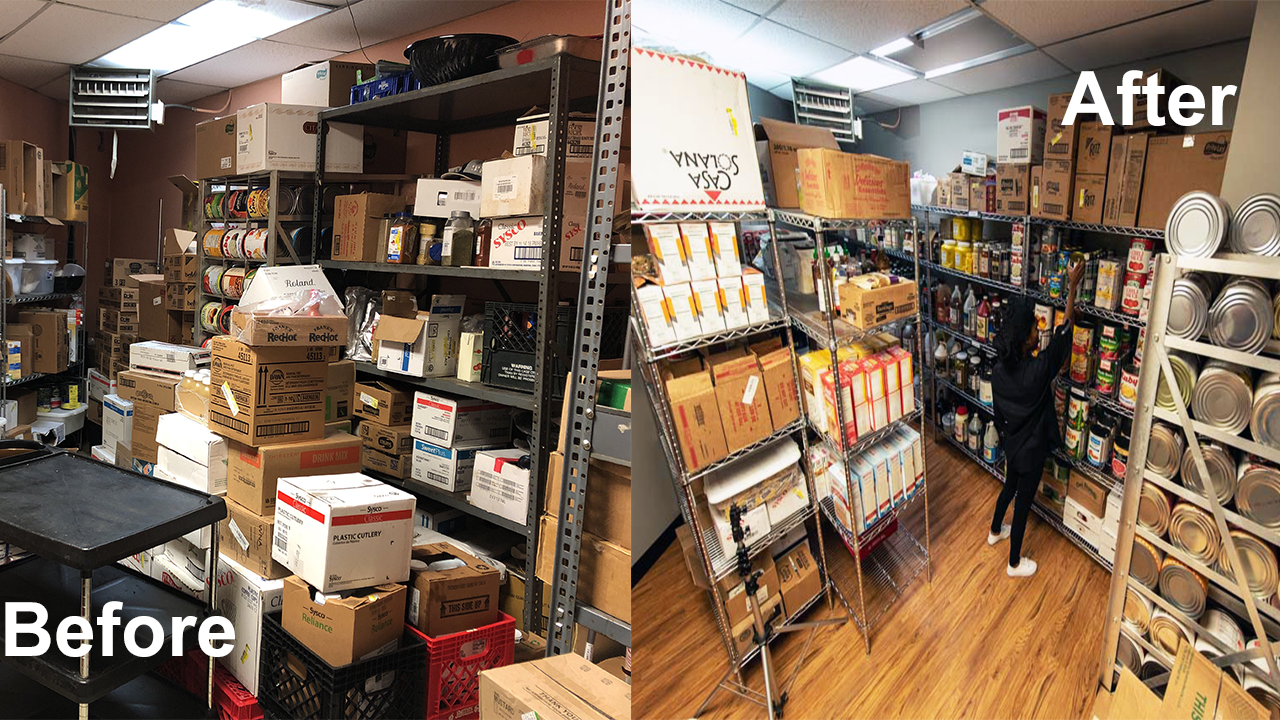 To help with their catering services, Metro provided the JCC with C5 3-Series cabinets to properly hold foods for long periods of time and MightyLite pan carriers to transport them. To increase their efficiency during prep, Metro also provided the JCC with new and improved work spaces and their own PrepMate work stations to increase their overall efficiency.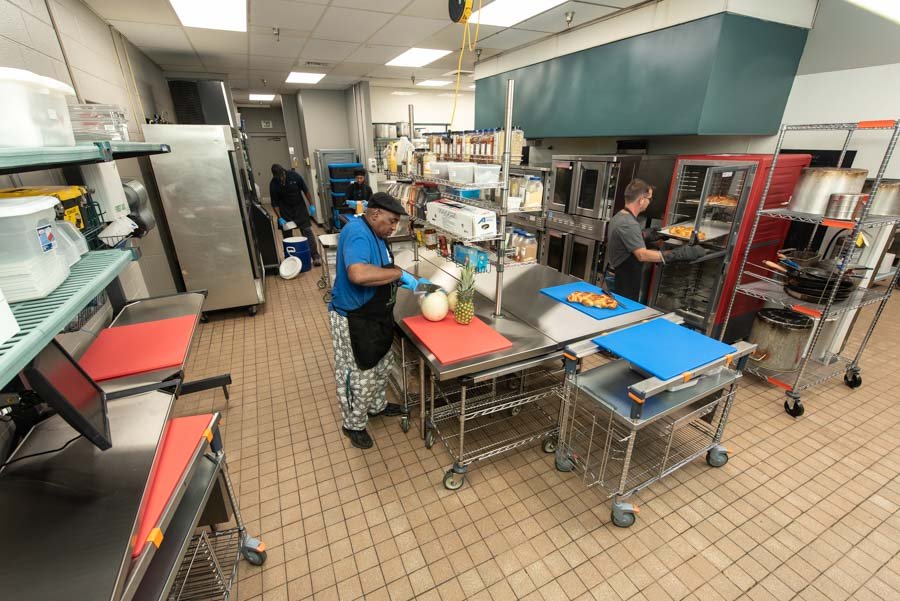 What did our winners think?
"This is amazing. I can't believe we won. I mean last time you guys were here you could see that there was stuff everywhere. Now there's actual proper appropriate shelving for everything," said Matan Gutwaks, Catering & Rentals Manager for the Greater Columbus JCC, "Nothing is on the floor because everything has a place. I mean it's really really wonderful. You know proper drying rack so that we can organize and cleanly keep things."
In the end, the JCC received over $50,000 worth of Metro goods, and a brand new more organized way to run their kitchen.
Watch Episode 3 of the Makeover here: