Ghost kitchens, also known as delivery or cloud kitchens, have become a foodservice industry staple. These kitchens provide a place for food service operations to expand their delivery and take-out capabilities without interfering with the efficiency of any pre-existing restaurant locations.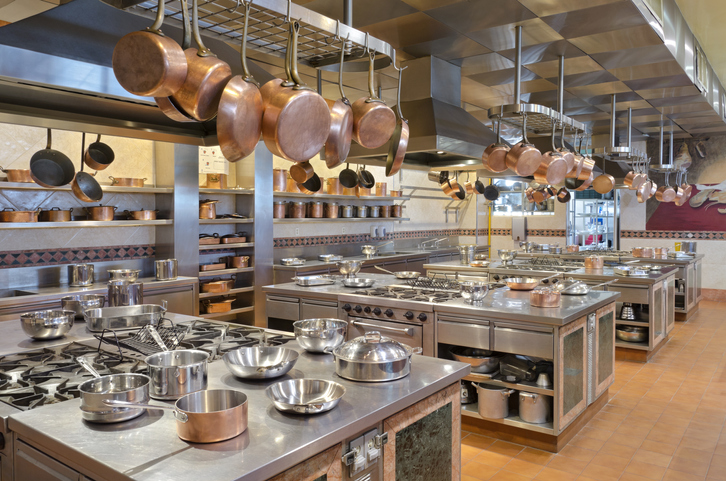 Ghost kitchens are built for efficiency and can be shared by multiple teams at the same time. Here we will break down our suggestions to build a highly productive ghost kitchen.
1. Know What will be Prepared in the Kitchen
To create an organized workflow, you need to know precisely what will be prepared in the kitchen. The number of workstations is directly tied to the number of people and recipes they will handle. In short, go in with a game plan. It would be best to have a pretty good idea of what you want to appear on your delivery menu. Once you have a pretty good idea, you can work on building a proper blueprint.
Your kitchen's workflow should be a significant consideration when choosing the solutions included in the design of the ghost kitchen.
2. Make the Most of Available Space
Ghost kitchens often involve making the most of minimal space. Here we will go through Metro's space-saving solutions designed for use in smaller kitchen areas.
Undercounter Heated Cabinets- To provide safe holding without taking up space, Metro offers heated cabinets that can be wheeled directly under countertops so they don't take up any floor area. These cabinets provide the same benefits available in Metro cabinets, including the cool-to-touch outer insulation area.
View Metro's selection of undercounter heated cabinets.
PrepMate- The PrepMate prep table is the only solution on the market built solely for adding efficiency to your prep processes. The adjustable top makes it easy to store under counters, freeing up a lot of space within the kitchen. The PrepMate provides a place to cut or chop any materials you need with container storage rails. These rails allow you to easily slide all of the prepped items into a container without picking them up.
Heated Shelves- To hold food without taking up space, add a heated shelf to existing workstations or wire shelving. Metro heated shelves are compatible with multiple Metro pre-existing product configurations. The most versatile heating solution on the market can be used as a hot plate, added directly to shelving, built into an order holding station with compartments, or placed in work areas to keep food temperate while finishing orders.
Are you interested in heated shelving for your facility?
Take a look at Metro's various options.
Wall Storage- Instead of taking up space on the floor with a rack, wall shelving provides the storage you need without losing any floor space. Metro Smartwall offers a variety of packages and unique designs to build your ideal unit.
Build a wall shelving system you love today with our 3D wall shelving builder tool.
3. Create a Safe Holding Space
A critical aspect of every ghost kitchen design is the staging area. The staging area should be easy to navigate while maintaining a safe temperature as the food is waiting to be picked up.
Hot stations- Metro Hot Stations offer a variety of flexible organization options to keep orders separated. The individual sections allow carriers to access meals without anything getting mixed up at pick-up.
Heated Shelving- Metro heated shelving allows you to create a shelving system with as many regular shelves and heated element shelves as you need in one unit. It is a great way to keep everything you need to send with an order in one area. Heated shelves take on the task of keeping food at a safe temperature. Adding standard shelves gives you a place for utensils, napkins, and condiments. This setup makes order staging easy because it keeps everything in one place.
Heated Cabinets- Heated cabinets are a great way to keep food at the proper temperature while awaiting pick-up. Cabinets have the benefit of humidity control and are great for maintaining food quality over time.
4. Be Prepped for Travel
If you plan to move finished food products to other areas, be sure that you have on-hand solutions to keep products temperate while on the go.
Mightylite- The Mightylite pan carrier is one of the lightest and most efficient carriers on the market. The advanced EPP design is tough, while the light structure makes moving items more manageable. Standard pan carriers can weigh up to 25 pounds before food is added. Mightylite weighs 60% less than those traditional carriers and holds food to temperature for up to 5 hours.
Learn more about Mightylite Pan Carriers.
Transport Cabinet- Insulated cabinets are also a great way to keep food safe and delicious when in transit. Metro offers a variety of easy cabinets that are easy to transport and well insulated for travel. There is no access to electricity. Metro transport cabinets come in various design and size options to fit exactly what your facility needs.
Your ghost kitchen will likely be taking on a lot right from the opening, and the ingredients and supplies held must be efficiently placed and easy to find. To achieve this, invest in the right tools.
For cooler storage, invest in corrosion-proof shelving. Shelving that is not built to handle harsh environments quickly breaks down and can cause disaster in your cooler. To avoid issues with the inspector, choose a plastic shelving solution or epoxy that will handle the daily wear and tear of constant use and the harsh environment of the cooler.
View our cooler recommendations.
To keep supplies organized, small investments can make all the difference. Labels are a simple way to maintain organization without spending a large amount of money. Labels are inexpensive but can make all the difference in keeping supplies easy to find. Another great accessory for maintaining organization in your storage areas is dividers. Dividers are another inexpensive way to keep materials separated and easy to access.
For larger items, rods and tabs are great for keeping materials in place when dividers are a little too low. Rods and tabs are an excellent solution for pizza boxes, sleeves or cups, or carry-out containers.
View all Shelving Accessories.
Build your ideal shelf today with Metro's 3D shelf builder tool.