Ever notice that NSF mark on your plastic restaurant shelving? It's one of the hallmarks of safety on restaurant-grade products. But what does it actually mean?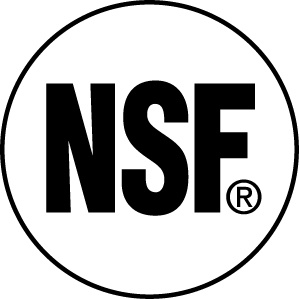 Below, we'll outline 3 essential things you need to know about plastic NSF shelving in your restaurant:
1. NSF is not a brand. It's a certification.
NSF stands for the National Sanitation Foundation. This organization was founded in 1944 with the goal of improving human health around the world by setting high standards and testing procedures for food sanitation and safety.
In the 1940s, the United States did not have any sort of national sanitation standards. This meant that a restaurant could be storing raw food on wooden planks in a dirty basement, and the essential policy was, "No harm, no foul."
The NSF wanted to change that because as you may imagine — immense harm can be done when food and food prep surfaces and areas are not properly stored and handled. Thankfully, today, when a product like plastic restaurant shelving is used to store raw or prepped food, it can earn "NSF certification" or be "NSF listed," which shows inspectors, patrons, and workers that the unit is safe and sanitary.
When certification is earned, the shelving unit will display the NSF certification mark showing that the product was fully tested and guaranteed safe by the National Sanitation Foundation.
NSF does not have anything to do with the government. Rather, it is an independent, accredited organization that monitors safety and sanitation for products used in places like restaurants, bars, hotels, school kitchens, and more.
Today, there are more than 140 independent testing protocols and active public health standards that the NSF follows. The NSF also works around the world and not just in the U.S. anymore. For this reason, they technically changed their name to NSF International in 1990.
2. NSF certification is not a one-time-only event.
Here's another important point about NSF certifications: It's not a lifelong guarantee; manufacturers need to re-certify regularly in order to keep up with NSF standards.
Manufacturers or all NSF certified products, not just plastic shelving, are subject to regular on-site inspections of manufacturing facilities to make sure that the NSF listed products continue to meet the same stringent criteria to remain NSF certified. If a product fails meet any of the criteria to remain certified, NSF can issue a product recall or even de-certify a product.
3. For consistent performance, NSF-certified plastic shelving is a viable solution.
Low cost/low quality shelving may corrode and break down over time, which can change how safe and sanitary they are for food-use. While the upfront cost may be cheaper, it will end up costing you more in the long run. For this reason, it is essential that you purchase high-quality shelving to ensure the safety of your operation and the quality of your product. Looking for an NSF-certified product is a great way to ensure that you are getting a high-quality storage solution.
Shelving units like the MetroMax 4 offer a polymer construction, which means they won't break down or possibly contaminate food with corrosion over time. They are NSF-certified, and as time goes on, you can be confident that the unit will hold up to the daily rigors of a commercial restaurant kitchen.
In fact, the shelves and posts have a lifetime guarantee against any sort of corrosion or rust. The unit also has proven frame and corner design to deliver constant stability. The MetroMax 4 is an example of exactly the type of NSF-certified plastic restaurant shelving that can help your restaurant's operation stay safe and orderly.
Looking for more information about the best plastic shelving for your restaurant?
The highest quality restaurants choose Metro for their plastic shelving. Metro provides an unrivaled value with their high-grade plastic shelving units that are designed with excellent polymer construction and built-in Microban product protection. Learn more about their Foodservice products here.