Blue Wrap or Rigid Containers for Sterile Storage?
Preventing surgical site infections is obviously a primary concern for all healthcare facilities and it all starts with proper storage of sterilized surgical items. Tried-and-true blue wrap is still prominently used for sterile storage of surgical kits, but many healthcare facilities are contemplating making the switch to rigid containers in order to avoid "Torn Wrapper" Syndrome. While rigid containers do have some advantages over traditional blue wrap, there are some factors that need to be considered before planning a full conversion.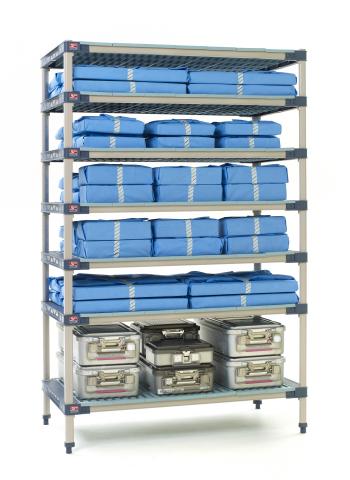 Why Rigid Containers May Not Be the Answer
There are many reasons why a facility might evaluate making the change to rigid containers, but there are several drawbacks that must also be considered. The first and most obvious is the initial cost. Rigid containers carry a much higher price tag than blue wrap. While some facilities may eventually realize a return on their investment over time since the containers can be reused, you need to factor in the additional labor required to decontaminate the container and each use. Furthermore, as the containers age they will require frequent testing and possibly repairs to maintain their sterility.
Rigid containers are also an inefficient use of space. If a facility used only rigid containers, they would require much more space and shelving units to store their containers than if they used only blue wrap or if they used a combination of blue wrap and rigid containers. Both blue wrap and rigid containers have a place in the sterile storage environment and the ideal solution for most facilities is a combination of the two.
How Do I Minimize "Torn Wrapper" Syndrome?
If you want to minimize the tears in your blue wrap, a great way to do that is by changing from wire shelving to polymer shelving. While it has been commonly used, wire shelving is not ideal for storage of blue wrapped surgical kits. This is mostly because of how wire shelving is made. The manufacturing techniques of wire shelving (i.e. welding, soldering, etc.) can create possible snag points which can cause tears in a blue wrapped surgical kit. Polymer shelving systems have smooth surfaces that have no snag points. The systems are molded which prevents the creation of snag points so the sterile items in the blue wrap are more likely to stay intact. You can even get a system with edges that are soft contoured and equipped with plastic ends. While polymer shelving systems are more expensive than wire ones, they can save the healthcare facilities a lot of money in the long term because there will not be nearly as many torn packs that need to be sterilized again.
How do you deal with "Torn Wrapper" Syndrome in your facility? Let us know in the comments below.