Ouptatient surgery centers require an extraordinarily organized and clean environment. Therefore, when it is time to design a new surgery center, choosing the proper solutions is imperative. Here, we will lay out our picks for the best modern, clean, and organized solutions for your surgery center.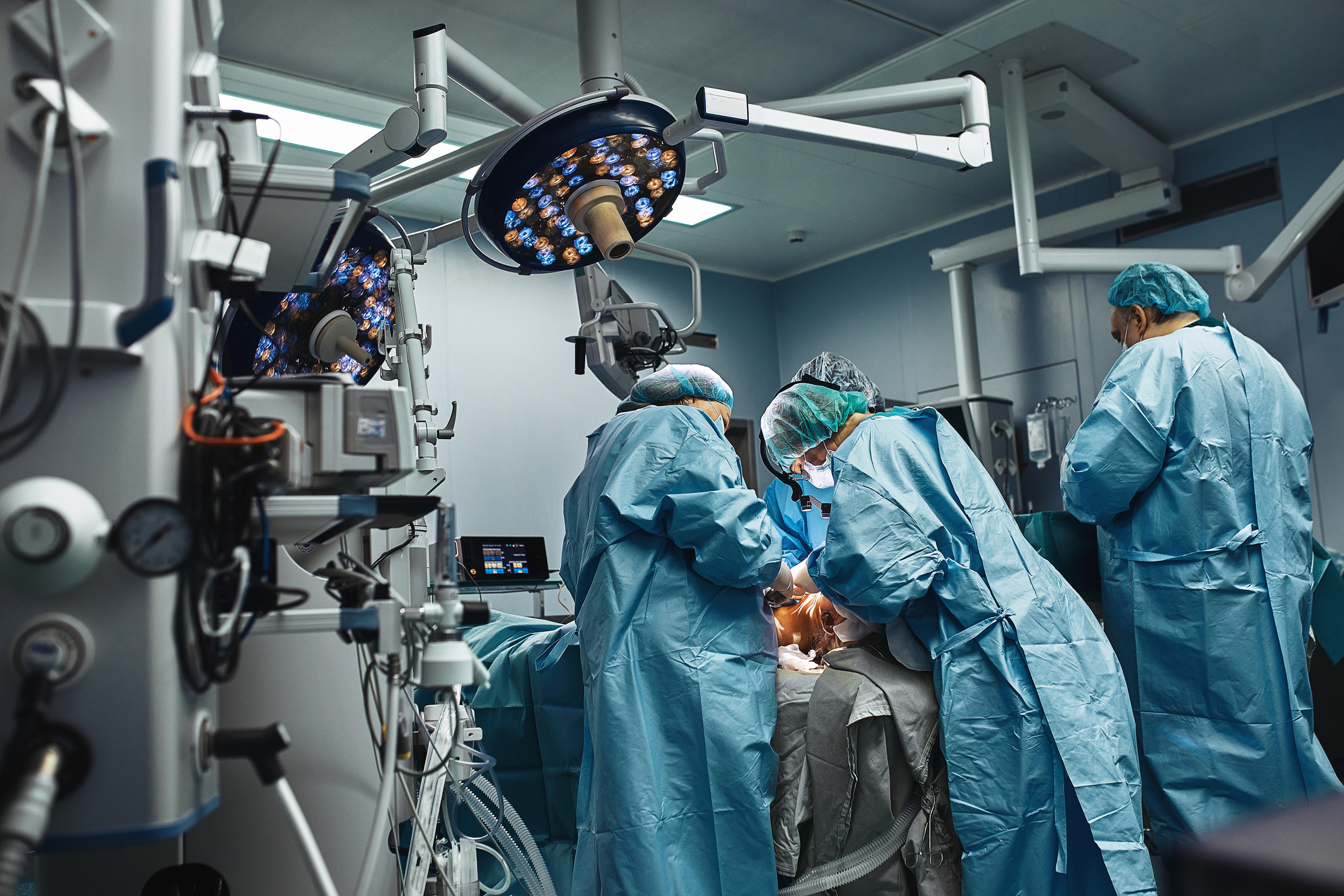 Sterile Transport/ Case Cart
Instruments and supplies being transported to the operating room [OR] need to be protected to maintain their sterility. Case carts are common method to accomplish this task. There are several factors that go into specifying the correct cart. The first criteria to determine is to go open or closed in the design of the cart. Things to consider to help determine which design is most suitable reside in flow or pathway the instrument and supplies will take. If there are separate pathways to and from the OR, i.e. a dedicated pathway for the transport of clean to the OR and an alternate dedicated pathway for dirty returning from the OR, then open case carts may be utilized. ORs built around a central core often support this flow and commonly use open case carts.
However, if pathways cannot be dedicated, and clean and dirty carts may pass each other, or pass other staff and visitors, then the cart must be enclosed. The most common method is the use of enclosed case carts. Facilities without cart washer on premises sometime opt to go the open case cart route and use a cart cover. The open design facilitates easier wipe down of the case cart. However, it does add a layer of complexity in how to manage and clean the cart covers. In any case, the purpose of enclosing the case cart is to protect the contents from the environment on their way to the OR, and protect the environment, including staff and visitors, from the potential biohazardous materials being transported from the OR.
The next criteria to consider is size and quantity. The size should correlate to the case type and the amount of materials needed to support. Smaller cases, like ENT, may opt for the smallest cart available where as larger cases, orthopedic, may opt for the largest cart. The case will determine the cart size, the mix of cases on a daily basis will help determine how many of each size is required. The general rule is that there should be at least three carts per OR available at any given time… One in use, One on deck, One being readied. More carts may be needed for faster cases.
Metro offers a variety of case carts to fit the exact needs of your team. Metro case carts are offered in both open and enclosed models of various sizes. Both styles are constructed to withstand the multiple cart washes or wipes downs endured on a daily basis. Type 304 stainless construction with cart washable stainless steel casters are standard. Both styles offer features and accessories that are important to any healthcare environment, including ergonomics, noise control and overall staff satisfaction.
Specialized Procedure Carts
Having specialized carts to aid your team is extremely beneficial. These carts provide all of the tools necessary to complete a specific procedure or task. While there are many types of procedures, the carts are very similar. Typically a named procedure cart is simply configured to support the specific feature. Drawers are sized based on the contents needed and accessories are chosen to provide added functionality.
As an example, Metro's arthroscopic cart is fully specialized for arthroscopic surgery. The cart provides specific accessories to accommodate the tubing structure, camera, and any additional supplies that may be needed during the procedure.
Metro also offers anesthesia carts built with everything your anesthesiologist needs to be effective in their job without having to worry about having a separate cart for supplies and another to support the anesthesia machine. Instead, the Metro anesthesia cart holds all the tools an anesthesiologist needs in one solution.
Best of all, Metro offers polymer procedure carts. These are designed to not, rust, dent, chip or peel. They've got soft, forgiving corners and are easy to clean. The added touch of Microban® antimicrobial product protection keeps the carts cleaner between cleanings.
Organizing Solutions
Keeping items organized is essential to keep the surgical team on track and provide the best possible experience for the patient. To help keep supplies organized, utilize proper storage solutions built to be used in a healthcare environment. Like case carts, supply storage can come in open designs or enclosed. For self-contained areas, like a clean supply room, open storage is just fine. But common areas should consider an enclosure, whether it be a cart cover, or an enclosed cabinet. Storage outside the OR, but in the corridor should be enclosed to keep the supplies clean. Inside the OR, an enclosed cabinet is preferred. This is to protect the contents during surgery, and to facilitate quick cleaning during the OR turnover. Clear doors are ideal to provide visual access for the circulator to quickly find what they need without opening and closing multiple doors while searching.
For a convenient, mobile solution, Metro offers multiple carts that can be customized to fit the exact storage needs of your team. Carts come in various sizes and designs to fit the precise needs of your surgical team. They can be configured with patented Super Adjustable® wire shelves, or pack friendly polymer shelves. Cart covers are available for both including an antimicrobial vinyl version.
For larger storage and enclosed needs, Metro offers mobile cabinets that can be placed wherever they are needed. Starsys XD [XD]cabinets come with adjustable shelves to perfectly fit supplies without taking up unnecessary space. These make an ideal storage solution for 1-minute supplies stored in the OR. XD cabinets also facilitate two-bin storage to support a Kanban inventory management solution. XD cabinets are designed with Microban antimicrobial protection molded right into the plastic that inhibits the growth of microorganism 24/7 over the life of the product. The cabinets come in different sizes to cater to your space and storage needs.
Easy to Clean Solutions
To maintain the sterile environment, all Metro polymer medical carts and shelves come with an antimicrobial additive that continuously works to inhibit the growth of microorganisms like mold, mildew, and bacteria. To do this, Microban antimicrobials are added to the polymer during the construction.
All carts are designed to be easy to wipe down without snagging. The design also limits the areas where dirt can get stuck, ensuring that the cart is as clean as possible.