A December 2015 study published in the American Journal of Infection Control found that high-touch objects within an intensive care unit (ICU), such as clinical workstations and carts, could possibly harbor more dangerous bacteria than the regularly cleaned items in patient areas. While this study focused solely on the ICU, cleanliness is unquestionably an important area of concern in every area of healthcare. When selecting a cart solution for your healthcare facility, it is vital to choose one whose design will help support your organization's cleaning process.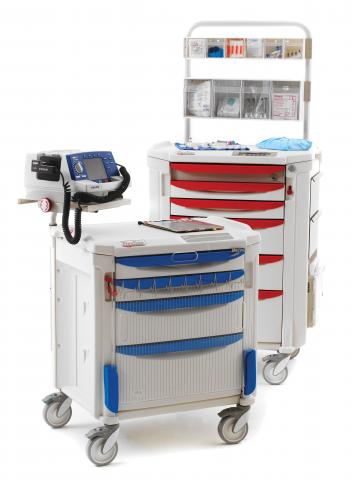 The first feature to look for is built-in antimicrobial product protection. When evaluating a product's antimicrobial protection it is important to make sure that the antimicrobial agents are integrated into the product material itself. If the antimicrobial protection is applied or sprayed on to the product, scratches, dents, dings, etc. may leave the product vulnerable. Many Metro® products including our Flexline®, Starsys® and Lifeline® carts feature Microban® antimicrobial product protection. While Microban is not designed to protect users against disease causing microorganisms, it is extremely effective in helping to keep the unit "cleaner between cleanings" by inhibiting the growth of mold, mildew, fungus and bacteria that cause stains, odors and product deterioration.
Another key feature that is often overlooked is smooth, round corners. As anyone who has ever had to clean dirt or grime out of a 90-degree corner can attest, having a round corner makes the cleaning process much easier and makes cleaning personnel less likely to miss potential contaminants.
Finally, it is important to take a look at which materials are used in the construction of the product. Polymer is both durable and easy to clean, but it also provides corrosion resistance and helps to maintain a smooth aesthetic finish for the life of the product.
At the end of the day, an effective cleaning protocol is ultimately the key to maintaining a clean environment for patients. High-touch objects such as clinical workstations and carts cannot be overlooked as part of the cleaning process. How do you ensure that the carts in your facility stay clean? Please let us know in the comments below.
MICROBAN is a registered trademark of Microban Products Company, Huntersville, NC
.