In the modern era of at-home dining, it has become extremely important for restaurants to focus on maintaining food quality. This is highly true for operations that focus on pizza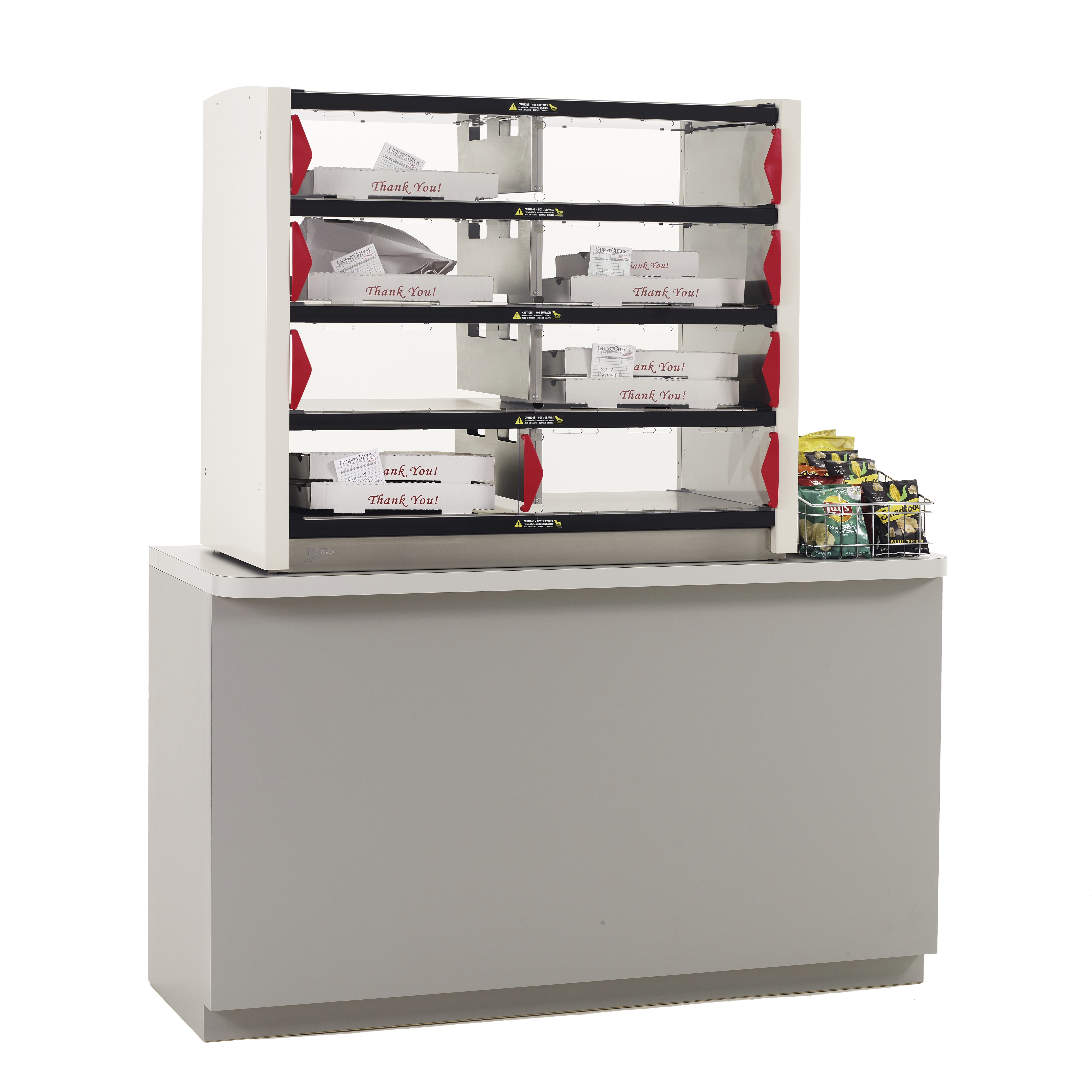 There is no better quick meal than a gooey, cheesy, steaming pizza picked up after work or delivered right to your door.
On the other hand, there is no bigger disappointment than receiving a cold, tough, soggy pizza upon delivery or pick-up.
Keep your product delicious by investing in a proper pizza warmer. There are many different options when looking for a solution to maintain that gooey deliciousness. Here, we will go through some options and help you find the best one for your restaurant.
Pizza Warming Shelf
The most versatile option for keeping pizzas delicious would be a heated shelf. Heated shelves can be used on tabletops for operations with a quicker turnaround.
The new SuperErecta Hot shelf can be a great solution for operations looking to optimize their holding space. These shelves can be paired with SuperErecta posts to create an entire shelving unit of heated shelves. Each shelf has its own temperature control. So, you can set each shelf temperature based on the type of pizza that will be held there.
Check out these warming shelves and other great solutions on Metro.com.
Heated Pizza Display
For an organized and efficient pick-up area, a display could be a great solution. Display cases offer easy sectioning for orders and a pleasing visual when customers come to pick-up their orders.
To create an efficient display, look for an option that has compartments that work for your products. If your main focus is pizza, you may want to check out the Metro2Go stations.
These to-go stations pair perfectly with pizza operations. There are multiple units to choose from, one is even sized specifically for pizza boxes.
View our selection of Metro2Go Hot Stations.
Heated Workstation
For more space-conscious operations, it is best to find a solution that can be worked in without costing counter space or space on the floor. To achieve this, Super Erecta Hot has developed workstations with heating elements. This gives your team a full table to work on while also incorporating a holding element.
This solution is great for operations with a delivery system. The table offers an area to place pizzas in thermal bags and check orders. The heated shelf element keeps the food warm while waiting to be taken to its final destination.
View our selection of heated workstations.
Holding and Proofing Cabinet
If you are looking for a solution to give you some extra bang for your buck look no further than a dual heating and proofing cabinet. This solution provides exceptional proofing as the dough is prepped for the day. While also offering superior warming for pizzas when they come out of the oven.
The Metro C5 3 Series is a perfect solution to hold orders of various sizes while keeping them separate and organized. The clear front door makes locating orders easy. If proofing isn't a game-changer you can also switch out the cabinet module to one that only focuses on holding.
Learn more about the C5 3 Series.