Lab freezers are an essential component of many laboratories. At Metro, we have worked on perfecting the design components of this space to allow the maximum amount of storage space while maintaining organization. Here we will lay out our product recommendations to maximize your space and improve efficiency in your lab.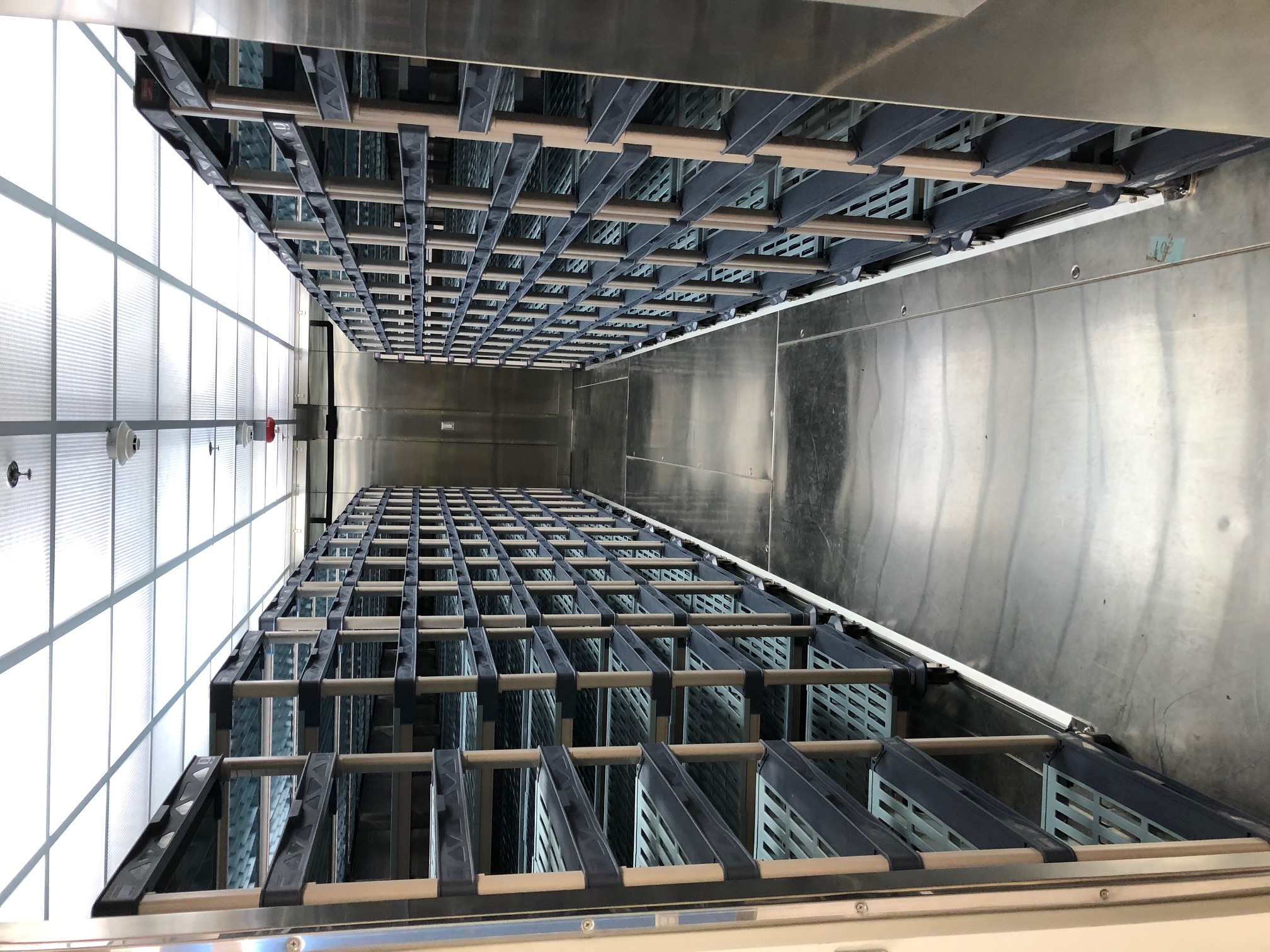 Fit all you can with High-Density Solutions
High-density solutions are an ideal way to make the most of the limited available space in your freezer.
Metro's Qwiktrack is a popular solution to meet this need. High-density shelving creates more space by placing mobile units on a track, making it easy to fit as many shelves as possible within small areas. Metro offers multiple versions of this solution that are safe for freezer environments.
View our High-Density Storage options.
Shelving Brands to Consider
Metro Max 4
The Metro Max 4 brand of shelving is a popular choice because its polymer construction is ideal for demanding environments like those found in the average laboratory freezer.
Metro Max 4 shelving is entirely customizable to be used as a stationary, mobile, or high-density unit. In addition, the thin but heavy-duty shelf design is excellent for space conservation. Coupled with easy-to-adjust shelves, staff can build the unit to fit the exact needs of the lab staff.
Metro Max 4 shelves additionally have a lifetime warranty against corrosion and are immune to breaking down due to chemical spills. This shelf type also offers Microban antimicrobials built into the polymer.
The added protection of Microban has been a lifesaver to past customers due to the added security it provides for products. Even in the event of something like a cooler malfunction, mold, mildew, and bacteria will not be able to grow on the shelves themselves. Thus, making sure microorganisms aren't contaminating products or supplies even in the event of a malfunction.
MetroMax i
MetroMax i is the most versatile, rust proof shelving system available in the marketplace today. Max i includes a lifetime warranty against corrosion and is proven to maintain its structural integrity in harsh environments.
In addition, its strength makes it an excellent choice for use in cart and high-density applications design applications.
The shelving units are great for storing larger items, with each shelf being capable of holding 1000lbs.
MetroMax i also comes with removable easy-to-clean mats and Microban antimicrobials. Its clean design makes it an ideal choice for lab freezers.
Traditional Stainless Steel Wire
Some people prefer a traditional wire storage system for their upright freezer. If you and our team are more comfortable with traditional wire, stainless steel Super Erecta shelving is a great choice.
For years, our team has perfected the art of making traditional solutions work better and fit more. If you decide on stationary wire. Our experts know the best ways to map out and plan your shelving for your freezer space.
Learn more about Stainless Steel Super Erecta Shelving.
Metroseal Gray and Green
If you are looking for the airflow and benefits of wire, but don't want to pay stainless steel prices. Our Metroseal options are a great alternative.
Metroseal protects the shelving from the elements, while also promoting an open design. Our team was the first to develop an epoxy coated storage solution for freezers and our epoxy coating is the only coating with Microban.
For lab environments, Gray epoxy is a great fit. Its neutral aesthetic is similar to stainless, making it an ideal match for lab environments.
When millions of dollars of product are on the line, trust your storage area to the experts at Metro and our line of heavy-duty storage solutions. Metro products offer the strength and reliability your facility needs. Unsure of what solution is best for your lab? Our lab storage experts are capable of finding your ideal lab freezer storage solution and mapping out your freezer design to ensure maximum efficiency and capacity.
Want to start the process of building your ideal storage solution?