Working within the new normal will be a challenge for everyone in the foodservice industry. Among the madness, it is crucial to work within the new normal of COVID19, but it is also imperative to prepare for the industry changes after the pandemic. Here is the guide to COVID19 essential equipment and post-pandemic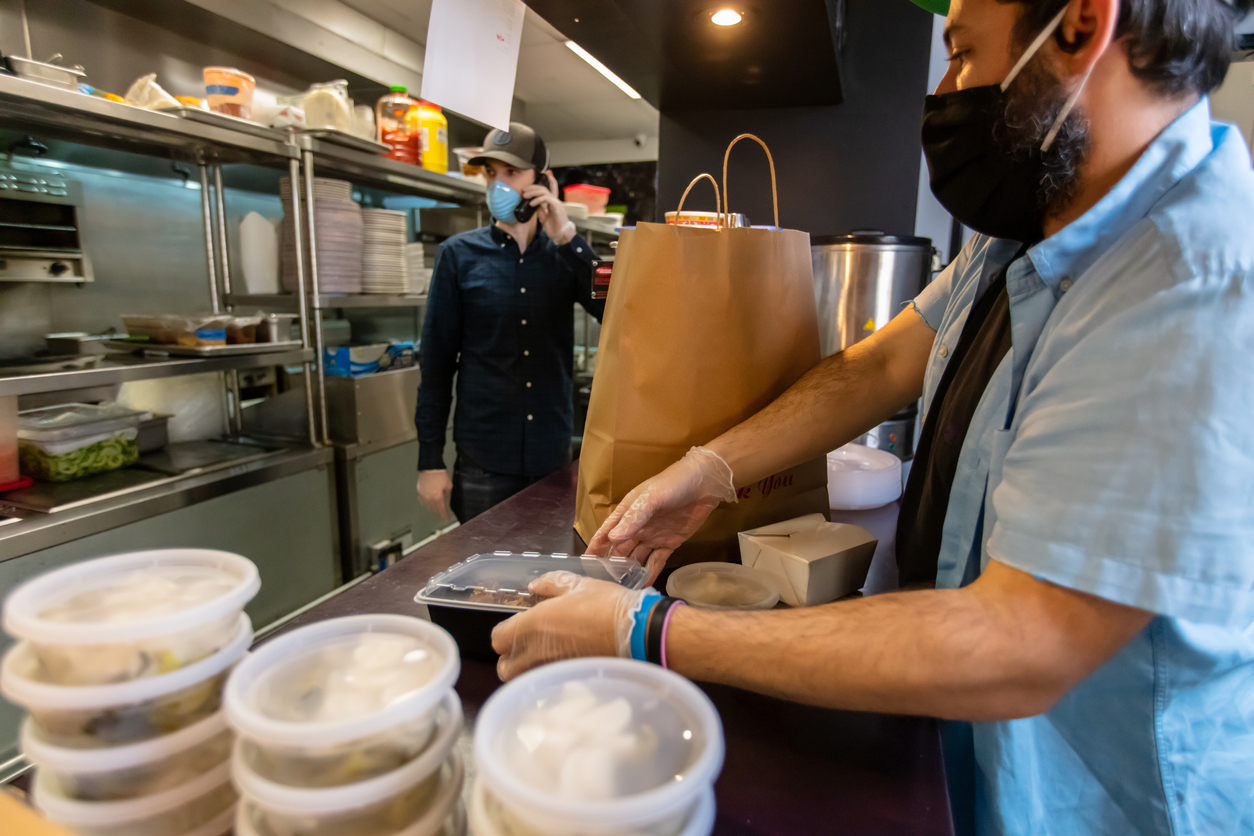 COVID Response Needs
PPE – Personal protective equipment is vital for the safety of both customers and staff. Providing gloves and masks will ensure safe contact between staff and customers. For added security, consider the use of face shields to create a full layer of protection between staff and customers.
Delivery Safety Precautions- When preparing to drop food off at a customer's residence, it is essential to keep cleanliness in mind. Make sure the staff has access to and is encouraged to use hand sanitizer between orders. Also, make sure that staff members are wearing PPE equipment, including gloves and masks at each individual drop-off. To make sure that food is safe during drop -off ensure that insulated carriers are used to transport meals from the kitchen to customers. For added food safety security, carry a thermometer to keep track of food temperatures, and avoid the temperature danger zone. To ensure customers receive meals right at the moment of drop-off, ensure that drivers text or call the customer once the food has been delivered. Finally, to limit contact while on delivery, ask ahead of time where to leave deliveries. Additional safety measures include delivery drivers, checking their temperature between deliveries to ensure they do not have a fever. This eliminates the fear that drivers may be interacting with meals and transferring illness.
Menu Adjustments- Going from cooking for large events to cooking for smaller groups can be a challenge. Still, it is necessary for the success of caterers transitioning to drop-off menus. To help make the transition easier, offer family-sized meals. A meal that serves 4-5 people makes cutting recipes more manageable, and families will appreciate that they can feed their whole family with one call.
To help stand out from the competition, consider making your dishes an experience. Instead of delivering a finished pizza, consider selling kits with dough, sauce, and cheese to make dinner an activity. People have been home for a long time, and a unique activity would be perfect for customers who are looking for fun activities to do during this time. For another unique add-on, consider delivering balloons and other party supplies for people's at- home gatherings.
Another great addition to your takeout/ delivery menu is drinks! Offering drink mixes or mixed alcoholic beverages can help customers bring a little bit of the bar home. For easier delivery, consider the use of disposable flasks they are aesthetically pleasing and keep the drinks from spilling during transport.
If maintaining a warm temperature is too strenuous on the quality of your dishes, you can also consider making oven-ready recipes that people can heat themselves. This is a great way to decrease the effect of transportation on the overall condition of the meals. If you choose this method, make sure that you have adequately insulated food carriers to keep the dishes at a safe temperature.
The Future of Catering Post- COVID19
We can all agree that the events of COVID19 will have an effect on every aspect of our lives. This is especially true in the catering industry, which banks on the grouping of sizable crowds of people. However, as the world reopens, we are likely to see catering needs go back up, with some minor changes.
Corporate Halts- As people get back to work, offices will likely avoid large get-togethers due to safety concerns. Some experts have claimed that this could last until the end of 2020. To help make up some of the profits from these events, consider running lunch specials with delivery to office buildings.
Weddings Making a Comeback- As restrictions decrease in each state, we are already seeing small group gatherings for weddings. As people become more comfortable being in public, we are likely to see an increase in catering needs for weddings. For now, couples are opting for smaller groups, be sure to create options for couples that aren't trying to fill an entire hall. For now.
Get Creative with Safety- If this pandemic has taught us anything, it's that the catering industry is filled with creative, resilient individuals. Take some time brainstorming how to improve safety once banquet serving goes back to normal. Should serving trays include 2 tiers to add a layer of protection between servers and food? Should buffet lines include specially designed sneeze guards that are made to both protect and be visually pleasing? There are so many ways to increase protection and be creative.
Stay Positive- Things may be difficult now, but this is not going to last forever. Remember, everyone is being affected, and in an industry that centers around personal happiness and experience, the best we can do is to look to the future and prepare to delight our customers. Weddings will come back. Corporate retreats will come back. Be there for your customers where you can and start prepping for the comeback of a lifetime.