When building a lab that will focus on technological development it is important that a proper cleanroom is built to provide a safe, clean environment.
Cleanrooms are highly necessary to eliminate dangerous static and dust from entering into the area where components are being worked on.
Here we will break down the products you need to create a proper cleanroom that makes the most of your space and provides maximum efficiency.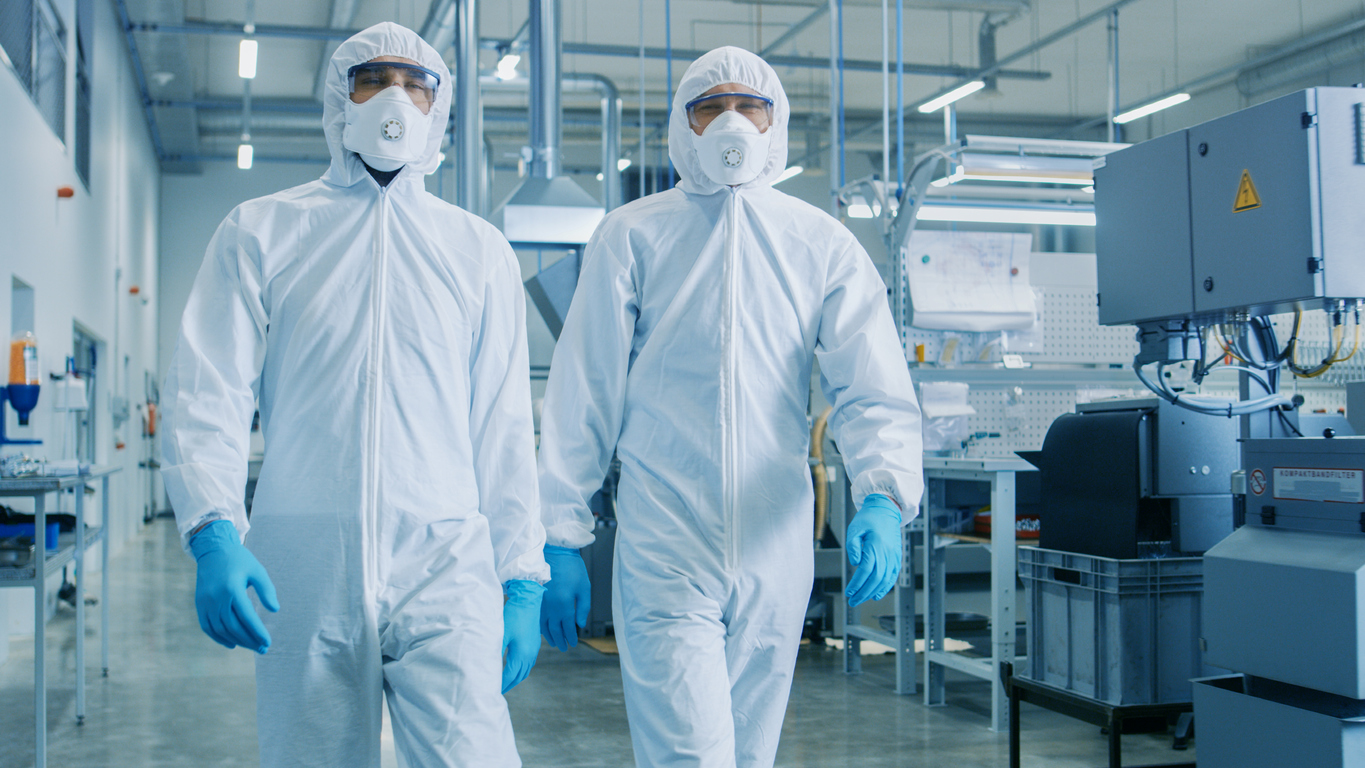 PPE Storage
Metro's PPE storage solutions provide an organized, clean place to hold everything from full contamination gowning supplies to sterile booties. Each specific piece is designed to fit any cleanroom with various sizes and design options that fit your decontamination processes.
Stainless Steel Upright Garment Racks- These racks are specifically designed for holding cleanroom garments. The rack itself is comprised entirely of 304 stainless steel with hangers of the same material. Metro cleanroom hangers include an anti-theft design with a capture mechanism on the top of the hanger.
The open design ensures that airflow is maintained on the unit. The unit is available in four sizes on Metro.com.
Bootie and Shoe Racks- Keep cleanroom booties and shoes organized with specially designed Metro racks. Each rack is comprised of stainless steel shelving components with rods and tabs to keep shoes organized. The rod and tab design make it easy to customize the compartments to fit your space needs.
To help ensure the rack fits into the necessary space Metro offers three separate size options.
Workstations
HD Stainless Tables- Metro High-Density stainless tables are built to maintain maximum stability and cleanliness. The table is seamless to ensure easy cleaning and is comprised of 304 stainless to ensure strength and prevent corrosion even with the use of harsh cleaning chemicals.
Tables are available in stationary and mobile designs. Each table can also be personalized with different bottom configurations including an additional solid stainless shelf, a three-sided frame, or an H frame.
Metro Space Saver Tables- Metro Space Saver Stainless Tables offer an option for smaller cleanrooms to provide ample workspace without taking up unnecessary amounts of extra space.
Each table is comprised of type 304 Stainless Steel components with standard 1" Super Erecta posts. This heavy-duty table in the stationary model type can hold approximately 800lbs.
Metro HD Super Stainless Steel Worktables with Overhead- Metro's stainless steel tables with overhead provide the ability to create more storage by utilizing cantilever shelving above the table. The tables are seamless for easy cleaning.
Make the most of your vertical space by creating storage above working areas.
View worktables with overhead.
Cleanroom Carts
Starsys Undercounter Storage- Metro's space-saving solutions are an ideal way to make the most of more condensed spaces like those found in cleanrooms.
The Starsys under-counter cart offers a clean storage solution that can be placed under worktables and counters to provide necessary storage without taking up space on the floor.
Each cart can be customized with a variety of locking and drawer options.
View these carts and more on our cleanroom solutions page.
MyCart- Metro MyCart is corrosion-proof to maintain a clean environment. The cart comes in two and three shelf options. Their polymer construction makes them resistant to everyday wear and tear.
Stainless Lab Carts- To help maintain the cleanest environment possible, Metro offers stainless lab carts. These carts are specially designed to handle regular cleaning and sanitation without corroding.
Case Carts- For a fully enclosed solution Metro offers passive lock case carts. The cart itself is built with a small footprint to help make the most of all available space. The embossed sides and back paired with the soft casters provide smooth and quiet movement.