Bedside carts offer an easy way to access materials without leaving the patient's side. However, bedside carts come in various styles and materials, so it can be hard to find the best option. To provide the best care possible, having the right features available on your bedside cart is essential. Here are our tips for choosing the ideal bedside cart.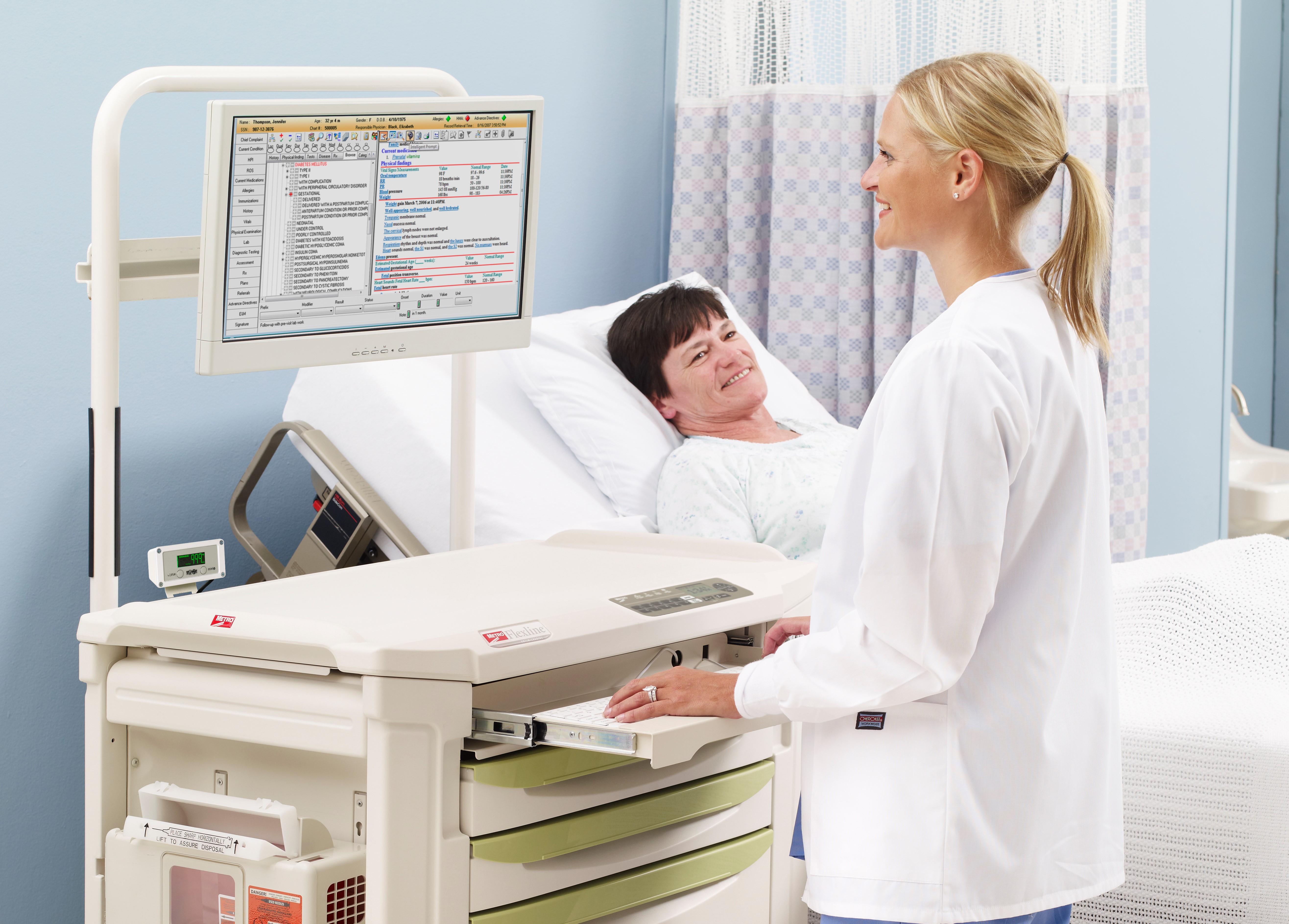 1) Cleanliness
Carts placed so closely to the patient's bedside must remain clean. The state of that bedside cart is a direct reflection of the hospital and can leave a negative impression in bad condition. That is why Metro's carts are checked for clean design attributes. Your carts should be able to stand the test of time and use without rusting, scratching, or having paint chip off the sides. Here are some design characteristics that ensure you are working with a cart build for cleaning.
Polymer
Polymer carts provide an easy-to-clean surface to help maintain a sterile environment. Polymer carts are also corrosion-resistant and chip-resistant, making them the obvious aesthetic choice.
Antimicrobials
A clean environment is critical for creating the ideal bedside cart, so choosing the cleanest cart is essential. For an added layer of protection, Metro carts with Microban antimicrobials continuously inhibit the growth of microorganisms like bacteria, mold, and mildew.
Casters
Proper medical-grade casters are imperative to allow the carts swift movement throughout the facility. To keep carts from moving while bedside, casters should also have breaks.
2) Footprint
Knowing what you need your cart to accomplish when it comes to space. Larger carts offer more space to work, so they would be best for facilities that require extra workstations. For facilities with limited space, a small footprint is best.
Portable
Proper medical-grade casters for when a cart needs to be moved from the bedside are important. When the cart is in place casters should also have well-functioning locks to stabilize the cart to provide a stationary workstation.
3) Configurable
Security
Sometimes, bedside carts are required to hold controlled substances. In these situations, Carts with a double-locking feature provide the protection needed. Metro offers this form of security with an Advanced LCD Touchpad security system on Flexline models.
Technology
If you need access to technology, make sure you are looking for a cart with a proper keyboard tray. Other accessories you can look into to help accommodate technology include monitor arms and power supplies.
Accessories
Don't skimp on additional accessories. To create more storage space, you can incorporate items like tilt bins to help add storage without taking up extra space. Other additions include sharps containers, glove box holders, and many more. Be sure to do your research or bring in professionals to figure out which accessories your team needs.
Organization
Dividers and Labels- Accessories are a great way to keep supplies separated, making materials easier to grab. In addition, external labels make it easy for clinicians to identify what is in the drawers without needing to look in multiple drawers to find what they need.
Drawer Pull Color Distinctions- You can customize carts for easy identification drawer pull colors can be used to identify the cat as a bedside cart or show the area where the cart belongs.
For more information on Bedside Carts go to their product page.