An issue that shows up frequently in many Ambulatory Care and Critical Access Hospitals is the IC.02.01.01 standard. Which reduces the risk of infections associated with medical equipment, devices, and supplies.
We have previously discussed how to select a cart with a "Clean Design", but proper storage and transportation of sterilized items are also important factors in sterility maintenance and therefore reducing the risk of infection. Healthcare facilities should remain aware of the various options for shelving and case carts available that facilitate effective storage and transportation of sterile items, compliance with professional guidelines, and sterility maintenance.
Polymer Shelving Systems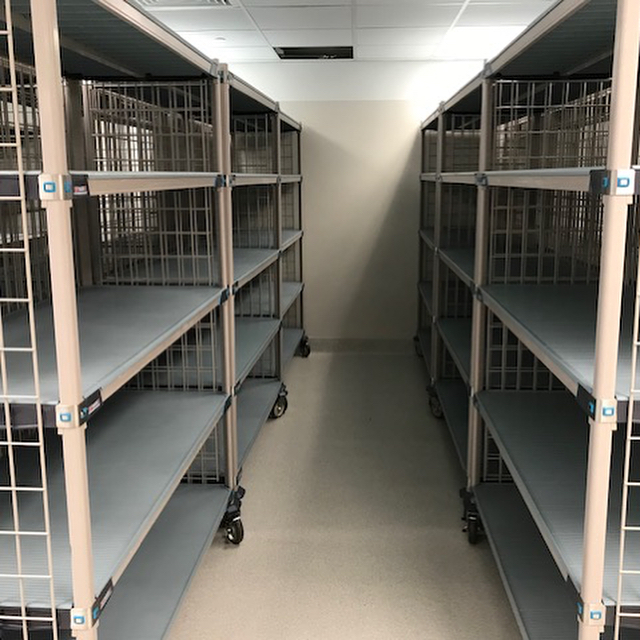 While stainless steel wire shelving units are typically used for general storage, they are not the ideal solution for sterile storage in the OR or sterile processing department (SPD). The manufacturing techniques of wire shelving (i.e., welding, soldering, etc.) can create possible snag points, which can cause tears in blue wrapped surgical kits. When evaluating shelving options, consider the following advantages to sterile storage for the OR or SPD that polymer provides.
Polymer shelving will not rust or corrode and therefore can withstand repeated cleaning; in addition, there is no impact on its durability in a wet or moist environment. Some polymer shelving systems offer stainless steel corners to offer added durability.
Smooth surfaces, which improve the protection of packaged items and also facilitate cleaning. Because the shelving is a one piece, all molded (i.e., not welded) design, there are no snag points that could compromise the integrity of a wrapped, sterilized package by ripping or tearing the wrap. In some systems, all of the edges are soft contoured, with plastic ends.
Antimicrobial protection, utilizing the latest technologies, i.e., zinc and silver based antimicrobial agents, may be incorporated into the shelf mats and all touch points; since this is molded into the shelving material, it cannot be removed during cleaning procedures. The antimicrobial properties inhibit the growth of mold, mildew, bacteria, and fungi that cause odors and lead to product degradation. It is important to note that this technology is not designed to replace routine cleaning practices; cleaning practices as outlined in facility policies and procedures should be maintained.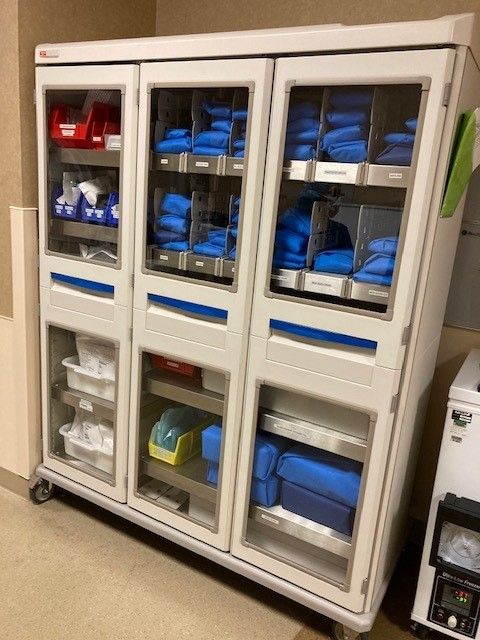 Covered Polymer Cabinets
Polymer cabinets, designed in various configurations, can be a standalone storage unit or one configured section within a larger storage system. These cabinets are available with either solid or clear panels; clear panels facilitate location and retrieval of items from the cabinet. Covered polymer cabinets have many of the same benefits of polymer shelving systems introduced above. Overall, polymer provides the durability, antimicrobial protection, cleanability and long-term value today's healthcare environments demand.
Stainless Steel Case Carts
When transporting sterile items from the SPD to the OR, a case cart allows for ease of transport. Either open or closed stainless steel carts may be used in a case cart system. Stainless steel construction also provides several advantages, such as excellent corrosion resistance; furthermore, its tendency to conduct heat accelerates the drying process. In addition, adjustable stainless steel shelves allow clinicians to configure a cart to their specific needs and also easily reposition them as needs change. Stainless steel casters remain easily maneuverable, even after frequent cart washings.
Open Case Cart
High and low profile open case carts are typically used in facilities with a dedicated process that utilizes clean and dirty travel routes to and from the surgical suite or one in which the ORs are designed around a central sterile core. Open case carts provide several advantages over enclosed carts, including:
Lighter weight
Open space to see through while in transit
Easy to clean
More compact
Closed Case Carts
High and low profile closed case carts can be used wherever contents must be protected from an "unclean" environment, including free-standing ambulatory care centers, surgi-centers, and hospital based or out-patient surgeries. Packaged sterile items should be transported in covered or enclosed carts that have solid-bottom shelves. Closed case carts provide several advantages to note:
Easy to maneuver
Easy to access protected materials
Easy to clean
Available in various capacities and profiles
Durable to withstand the rigors of transport
How does your facility maintain compliance with IC.02.02.01? We'd love to hear the secrets to your success in the comments section below.