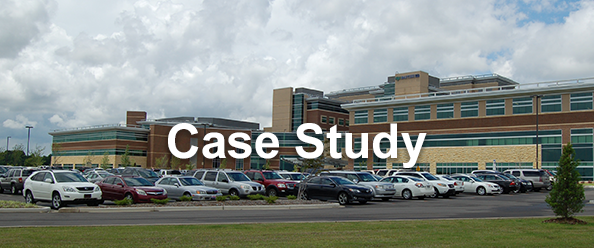 Case Overview
When it comes to organizing supplies in a new space, it is essential to leave room to support facility growth. This was a critical aspect of the supply design at Baptist Memorial Hospital in Jonesboro, AR.
Creating a storage area for a brand-new supply system can be challenging because the team is working with a blank slate. They need to take a space and create a site that effectively stores supplies without any past precedent of how supplies move through the facility.
When creating the plans for these areas, the team wanted to ensure that the staff could comfortably adjust to the supply chain's processes and movement. This was accomplished by ensuring that the storage area had plenty of space for staff to move around and could be adjusted as needed. It was also important that there was an opportunity to adapt the storage solutions to their needs and accommodate supply changes. Their past systems had been limited to older, bulky shelving that didn't suit the area's high traffic needs.
The Challenge
The team was given a larger space for supply storage. But the team needed a storage solution that would make the most of their space while also accommodating future changes in the supply chain.
This was when Metro's Lean Qualified storage expert Hoyt Martin was brought in to help build their inventory areas. Hoyt had worked with the construction team before and knew what solutions had worked in their storage areas in the past. The construction team and Hoyt immediately worked on a layout that the team would approve. The team decided on the use of a par system. The shelving design delivered large enough aisles for multiple people to move around the room with par fill carts and pick products quickly, along with easy adjustability for the initial set up of their inventory.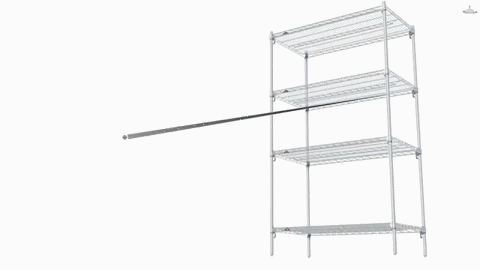 For storage, it was essential for the staff to have a solution that could evolve with their needs. It was also crucial to the team that the solution they chose was something they were comfortable with using. Metro products have been a staple within their projects for years, and in this case, Metro was also their ideal solution.
Solution
The team went through a few options, including Par and Kanban but ended up choosing to marry the Par method and Super Adjustable Super Erecta. This solution was ideal for their storage space because of the capabilities and accessories.
The easy adjustment levers were a perfect fit for the newly built center as they continue to set up their inventory. This product gave them a chance to adjust the inventory as they fine-tune their storage because of its easy shelf release technology that allows staff to adjust individual shelves without taking the whole unit apart.This was a perfect fit since the staff assumed that things would be changing as staff became accustomed to the new area and fine-tuned inventory placement and quantities. Having a storage system that can easily adjust was key to supporting these adjustments while maintaining storage efficiency.
Another aspect that helped in the decision-making was that the system made it easy to take on supply growth.
As the hospital adjusts over time, the supply chain will likely need to increase the number of SKUs being stored as well as higher levels of the existing SKUs being held. Flexibility is also required to support vendor changes, specifically packaging size and carton counts, creating a need for more space or a means to collapse space. The Super Adjustable Super Erecta was designed to provide easy adjustment to adapt to these changes over time without changing the entire storage area.
For added organization, accessories were used to build a more efficient system. Ledges and enclosure panels were used to keep products from falling off of shelves. Dividers were added to create sections for easy product organization and restock. To make materials easy-to-find, labels were added to each section. To keep smaller items organized, tote boxes were also added.
Conclusion
Adjustable storage solutions are an excellent tool for facilities that are anticipating change and adjustments to their storage needs over time.
The Super Adjustable Super Erecta allows facilities to plan and optimize their space while also ensuring that their staff can make needed adjustments without the need for additional funding.
This flexible option has proven to be effective in creating a unique opportunity for facilities that want the strength of traditional wire shelving with added flexibility.