The experts at Metro have been working on solutions to help increase takeout and delivery sales for years. Since COVID-19, many businesses have been working to improve their takeout processes to fit the needs of their customers. Even before the new normal, Metro has worked with companies like Wawa, Wegmans, Chick-fil-A, and other masters of takeout to create the best products and processes for takeout.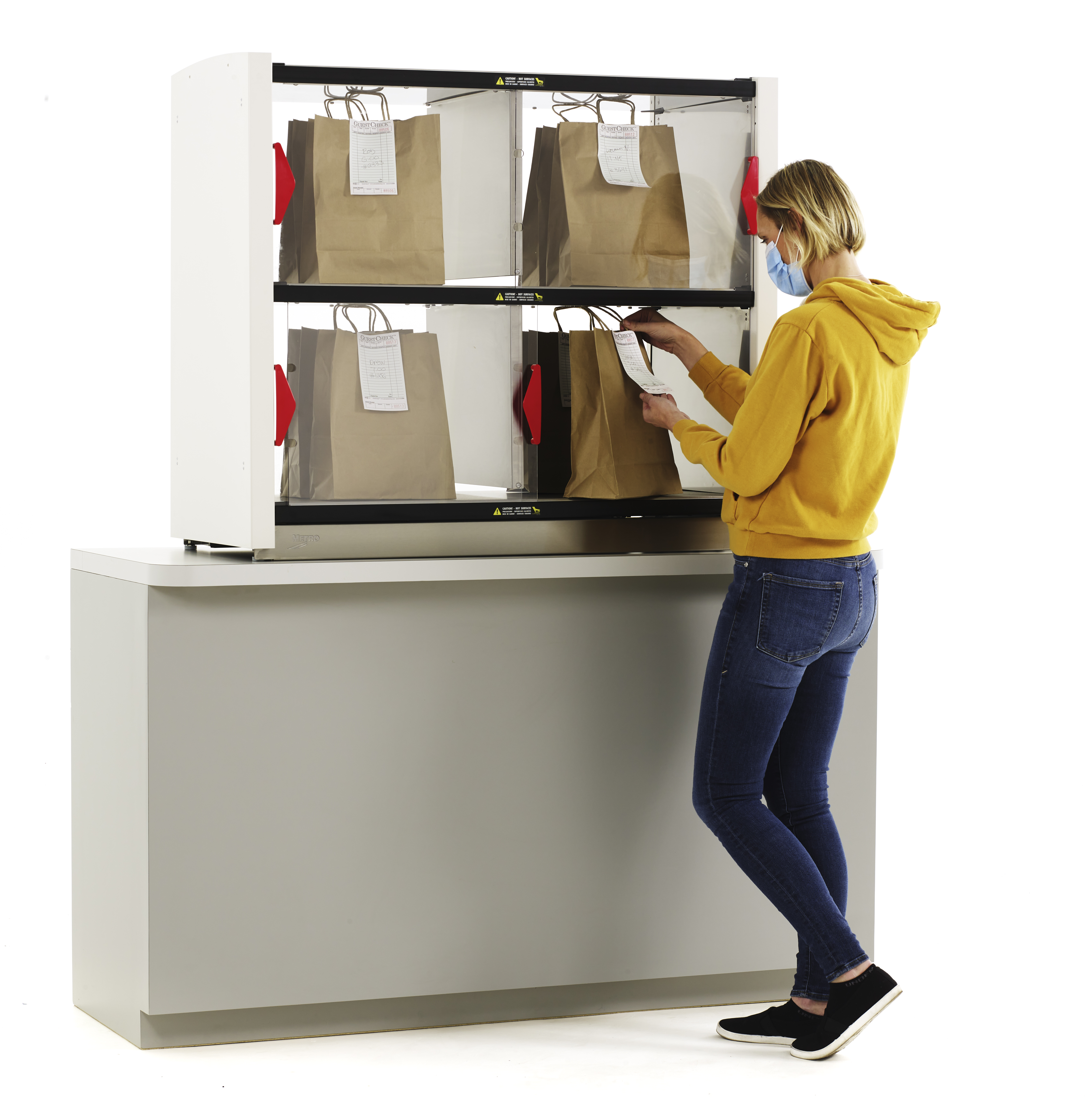 Here are our tips for creating a better takeout experience that keeps customers coming back.
1.Maintain food quality
One of the worst complaints you can get when trying to increase your takeout sales is that the food was soggy or cold when it reached the customer. Maintaining the quality of the food you serve is critical to your operation. Bad experiences can make or break your business. On the other hand, proper holding can delight your customers, increase takeout sales, and keep people coming back. To do this, incorporate solutions to maintain food quality into your takeout process.
At Metro, we have worked to build products that keep carry-out, takeout, and delivery delicious. For hot meals, Metro offers a heated shelf that can be added to shelving units, used as a hotplate, or added to a workstation. No matter what your kitchen set-up Super Erecta Hot has a configuration for you. This solution has been specially designed to improve the quality of takeout orders.
2.Create an organized Pick-up System
Having an organized pick-up system is extremely important. Making sure that orders go to the right person and efficiently is of the utmost importance. Customers do not want to struggle to get to their orders. Exceed customer expectations by creating an organized and efficient system for order pick-up. Some systems include specific areas designated to each customer and may provide a sense of security when enclosed.
View our picks for order pick-up.
3.Make sure orders are bagged correctly
It is crucial to ensure all utensils and condiments are in the bag when customers pick them up. Limit the number of bags that go out without the necessary add-ons by creating an order-bagging area with all the supplies staff would need to add to the bag. Many bagging stations will provide all utensils, condiments, and other supplies within arm's length to prevent wasted time and steps in the process. As a result of creating a central bagging space, it is less likely for orders to go out without missing elements.
View our choices for bagging stations.
4.Build a Takeout Menu
One common issue that restaurants run into when trying to create a takeout style operation is organizing their entire menu for takeout. The truth is that not all foods are easy to transport, and trying to make every piece of the menu available for takeout can add a large amount of burden onto your kitchen staff. So instead, create a separate menu of items that are popular and hold well. This will make the transition into takeout much easier. It is also great for quality control.
5.Use Proper Containers
Having the proper containers for the food, you plan to serve is fundamental. The container you use should keep food secure and safe until the customer gets to eat it. No one ever liked their food dripping onto their lap due to improper storage.
Make sure you do your research and get the right takeout containers for your dishes.
6.Focus on Safety
Another element of creating a successful takeout operation is ensuring foods safety. Nothing can turn customers away faster than accounts of food poisoning. So be sure to follow proper storage hierarchy when storing ingredients, prep safely by keeping ingredients seperate from contaminets, and when holding finished meals, keep them out of the temperature danger zone! When food is left in the danger zone (40°F – 140°F), bacteria can double in under 20 minutes- USDA.
Invest in heating and cooling solutions to keep your dishes temperate while they await pick-up.